Newspapers report the start of Oakleigh Brass Band in 1892. The early band was very active, performing at many events around Oakleigh. By 1910, Oakleigh band was rehearsing in a coffee shop on Dandenong Road on the site occupied by Guests Furniture Store, now Chadstone Ford.
The band was an essential part of Oakleigh life during WW1, running weekly "Picture Nights", bringing silent movies to Oakleigh. Profits from this venture were used to help the band perform at a variety of WW1 fund raising, mostly for the Red Cross. 11 members of the band joined the Army, serving at Gallipoli and on the major battlefields in France. The local newspaper published a great review of the band in 1918, celebrating its first 25 years and the commenting on how important it is to have a local band. For a time during WW1 there was even "Oakleigh and District Brass Band Orchestra", formed because the band had too many performance requests.
In the 1920's the Football Club Pavilion was the venue for band practice. Leading up to World War II the Band lapsed due to lack of man power.
In 1969 the Oakleigh City Council, having been without a band for over 30 years, approached the Victorian Railways Institute Band which was experiencing hard times due to the loss of support from the Victorian Railways. The Band relocated to Oakleigh and was renamed the Oakleigh City Band.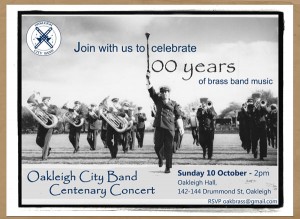 Since our beginning, Oakleigh Band has contested State and National Brass Band Titles and had its share of successes. The current Band occasionally takes part in the Bendigo and the Latrobe Valley Eisteddfods and has competed in the Australian National Band Championships.
Over many years of participation, the Band has become a fixture at significant public occasions in the City of Monash and elsewhere; Australia Day, Anzac Day and Carols by Candlelight in particular. We enjoy presenting our own concerts and working with other local groups such as Monash Chorale to present joint events.