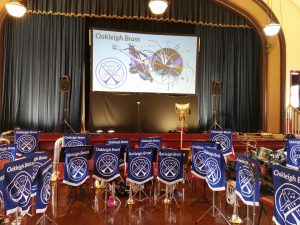 Sunday 22nd October 2017, our concert "125 Years of Innovation", celebrated 125 years of brass bands in Oakleigh and innovations that had occurred over that time period.
We played a great range of genres spanning the years 1892 to 2017 and was accompanied by visual presentations spanning the same years, that represented the history of brass bands in Oakleigh, world events, and innovations that had occurred over that time. Pieces such as "Ghost Busters", "Instant Concert" and "A Whiter Shade of Pale" were accompanied by unique visual presentations. The concert also featured the marches "Oakleigh", originally commissioned in 1988 in memory of former Band President George Thompson, and "Altona", commissioned in 2017 to acknowledge the Band's long association with Altona and Newport RSL clubs.
We had enjoyed two workshops with Graham Lloyd as part of our preparation for the concert, thanks to a generous grant from Monash Council.
The Program also featured a solo performance of "The Secret" by Qiuming Lu accompanied by Oakleigh Brass, as part of the prize awarded by the Band for the best young brass player at the Waverley Eisteddfod.
Our wonderful audience provided feedback:
"Put together really well – not just the music, it was the whole presentation";
"Sounded great and looked great"; "stimulating and fun";
"Great range of mood and evoked a lot of different emotions";
"Such a variety of music that you were playing .. it was lovely";
"Is this the first brass band concert you have been to? Uh huh! And what did you think of it? IT WAS TOO LOUD!!!";
"I just thought it was the most amazing concert and the tightest I have seen from this band";
"I thought it was outstanding. It was very professionally performed – if you didn't find something you liked in that, you shouldn't be here";
"I thought it was brilliant – very entertaining, all ages enjoyed it";
"Good quality, a good mix, something for everybody";
"I thought it was a wonderful experience, the band as always played beautifully."