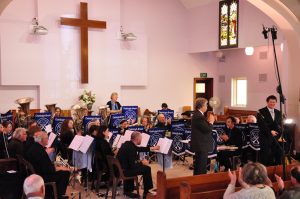 "Voices of War & Peace" commemorated the 100th anniversary of the signing of the armistice ending the first World War, with music written and/or performed around the time of the First World War and other items with a War and Peace theme. The concert was held at the St David's Uniting Church on Sunday 21st October 2018.
The program featured the World Premiere of "For the Fallen" composed by our Musical Director David Keeffe. This was composed for brass band and voice and featured the baritone Kristian Gregory. Listen here: For the Fallen
The program also included the march, "The Vanished Army", written by Kenneth J. Alford in 1919 and dedicated to the first 100,000 soldiers who made the supreme sacrifice during WWI. There was also a medley of songs adapted for the band from the Australian-based vaudeville performer Charles Vaude, who toured and performed in Australia during WWI and the period between the two World Wars. Another highlight of the program was Robyn Sorensen's keyboard accompaniment to the band's performance of Beethoven's Moonlight Sonata.
The receipt of an Arts and Cultural Project Grant from Monash Council for the Concert is gratefully acknowledged, including a workshop with Matt Klohs, from the Defence Force School of Music.
Audience donations raised an amazing $265 for "Code 9" a Melbourne group supporting PSTD in Emergency Response workers.
Post concert comments included:
"Loved it … loved the variety within the theme … particularly interested to hear several pieces that I had never heard before"
"I loved it, especially the Australian songs … also loved the classical parts and the new compositions"
"It was fabulous …"
"We enjoyed the concert immensely. It was interesting to hear the different tunes … especially liked the big band music … it was interesting to have singing this time"
"It was unusual in the ordinary person's view of a brass band … I reckon it's super that just anyone can join"
"… community bands give people the opportunity to participate, but also for members of the community to be on the receiving end of their musical outputs and talents."
In the lead up to the concert, David Keeffe was interviewed by Anthea Same on the "Simply Brass" program on 3MBS and a portion of our performance of "For the Fallen" was played on 3MBS in the weeks after our concert.